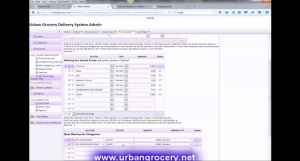 Call 202-544-5081 to request a demo site log in
or request a demo site log in online.  

Urban Grocery Delivery System Features:
 The products for your store are matched from a 75,000 item database of products with complete descriptions, UPC codes, plus gluten and kosher free claims.  Over 40,00 high quality item images are available in thumbnail and large image sizes.
Local products for your area are included in the product database (for installations with over 3000 active products).
Item Pricing and Sale Item pricing integration are included; update your prices daily with our simple interface.
Online orders can be immediately fulfilled from any internet connected device, or pick lists can be printed out.  Pick lists are arranged in the aisle order for your store for quick and efficient fulfillment.
Invoices can be generated immediately for emailing or can be printed out. No need to ring each item throgh the register.

Manual Entry of telephone or fax orders is supported.No need to awkwardly enter orders through the customer website.

The Urban Grocery Delivery System supports multiple delivery rates and easy markup of products overall, by section, by category using percentage or fixed markups.  You can also markup items individually.Mark up items by a percentage or fixed rate.  Increase your margin for online orders.  No need to show customers the store receipt.

Set the system for pickup, delivery or both.
Customers can log in to your shopping cart and order from a list of their previously ordered items .
Use up to seven different coupon codes to give promotional discounts by percent or a fixed amount.
Track customer contacts and sales data.
Create and email or print customized follow up letters for customers.
Your dedicated website and online shopping cart will be located at yourdomain.com.   Set up is easy using our built in templates.
Google Analytics support is included.
Includes your complete website and shopping cart for just $59 per month(less than 3000 items) plus $1 per online order, or &89 per month(greater than 3000 items)) plus $1 per online order.
We support the UGDS with free telephone and email support.
View an UGDS shopping cart here and a website here.


One month of the Urban Grocery Delivery System service:  $59.  Retail Store Set up fee (one time)  $199 for up to 3000 products.

One month of the Urban Grocery Delivery System service:  $89.  Retail Store Set up fee (one time)  $399 for over 3000 products.

Includes:

Match your product list with our 75,000 item database,
including 40,000 Professional quality images.

Integration with your current data system:

Set up import of your daily price update
Set up import of your sale items

Optional:
Domain name registration-One Year: $20

Recurring Fees:
$89 per month plus $0.50 to $1.00 per online order received
View the fee schedule.

One hour of live online web training is included.

Please email us if you have questions or need more information, or call 202-544-5081.